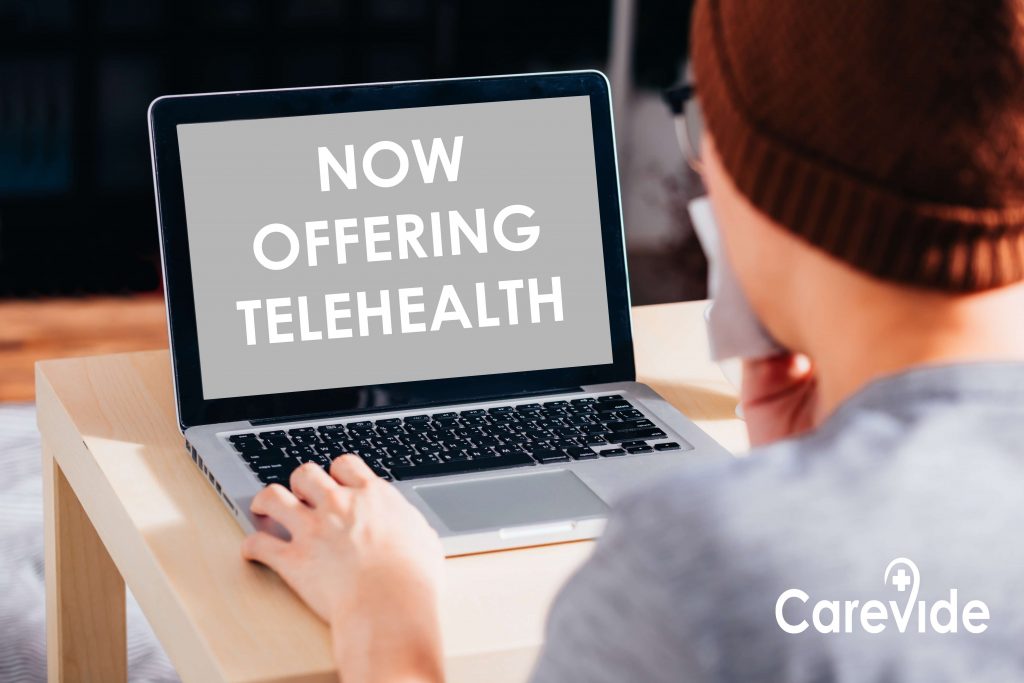 For the health and safety of our patients, Carevide is now offering telehealth services!
What is telehealth?
T

elehealth is a mode of delivering health care services to our patients from a distance. This mode of service allows in office providers to consult and treat patients through use of a computer or smart phone, while the patient is able to remain in their own home.
What equipment do I need to utilize telehealth?
What appointments/services can be handled by a telehealth appointment?
All visits, except women's health visits, will be offered via telehealth. If at any time during the visit your provider determines there is a need to see you in person, the visit will be converted to an office visit. (Note: if your telehealth visit is converted to an office visit, you will only be charged for one visit, not both.)

Well child visits will be done via a combination of telehealth and office visit. All information that can be gathered via telehealth will be gathered prior to arrival at the center. Vitals and immunizations will be completed at the office, in a designated, clean, "well" room at the center set aside for that purpose only.
What if I already have an appointment scheduled?
You will be called in advance of your appointment to discuss the conversion of your appointment to a virtual visit, assuming you have the proper equipment for a telehealth visit (see requirements above).
Will I still get to see my usual provider?
In most cases, your telehealth appointment will be with your normal provider. If your provider is unavailable, center staff will discuss alternative options for your care.
How do I schedule an appointment?
Telehealth appointments are scheduled the same as normal office visits. Call your center to schedule. See our locations page to obtain the number of the center closest to you.
What is the cost of a telehealth appointment?
Telehealth appointments cost the same as an office visit. Your out of pocket cost will still be determined either by your insurance coverage or your financial information for Carevide's sliding fee program.
Do I have to do telehealth, or can I see my provider in person?
We are currently offering telehealth to our patients in light of concerns for everyone's health and safety during the COVID-19 crisis. We are encouraging patients to choose this option to prevent the spread of germs and the COVID-19 virus. However, if you wish to see your provider in the office you may decline telehealth and keep your appointment as usual.
Does the telehealth system keep my information secure?
Yes, the telehealth platform is secure and HIPAA compliant.